page 1 of 3 - Yellowstone Park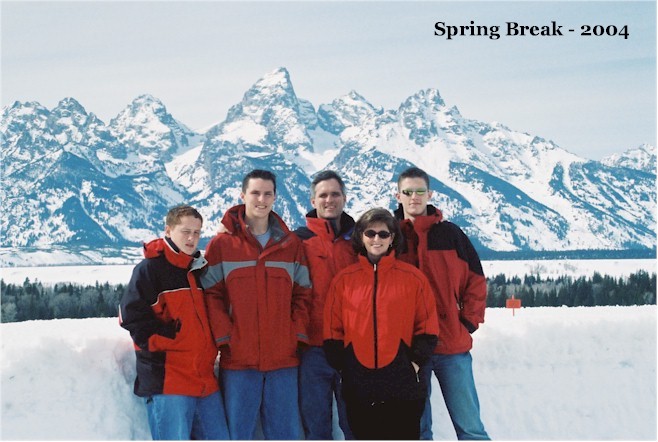 We flew in to Jackson Hole, Wyoming and immediately drove to one of the scenic turnouts to get a good look at the Tetons. Oddly enough, the highest peak is called The Grand Teton.
After driving to West Yellowstone, we went on a guided snowmobile tour through the park - probably the biggest business in town. Spencer and Brad rode double.
| | |
| --- | --- |
| Terri mentally prepares by reminiscing about those dirt bikes. | |
| | |
| --- | --- |
| | A few miles into the park, we rounded a corner and met up with these guys. |
| | |
| --- | --- |
| When we started getting close to the geyser area, the cold weather made the hot spots even more noticeable than they are in the summer. | |
| | |
| --- | --- |
| | The Grand Prismatic Spring was one of several sites that we stopped and walked around. Our snowmobile guide was great - turns out he had been a regular Yellowstone guide for years. |
| | |
| --- | --- |
| The boys ponder one huge hot tub. | |
| | |
| --- | --- |
| | We had lunch at Old Faithful, and our guide took our picture during one of the two eruptions we witnessed. We're probably the first to have the idea for a shot like this. |
| | |
| --- | --- |
| The Men of Yellowstone. Buy your calendar now. | |
| | |
| --- | --- |
| | On the way back out, we saw a couple of bull elk and also a bald eagle. Didn't get a picture of the eagle, but its nest was as big around as a dining room table. |
| | |
| --- | --- |
| Back at the snowmobile rental place, Spencer and Brad found a hill to fight over. Hard to imagine. | |
go to the next page, where we explore the Targhee National Forest on snowmobiles